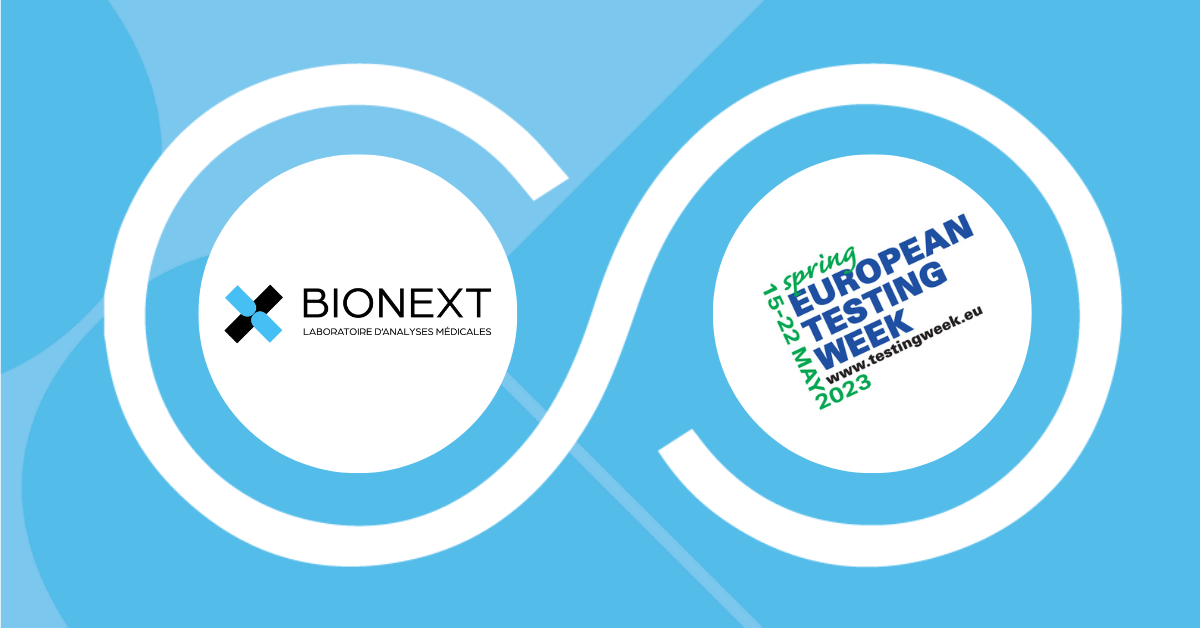 The medical analysis laboratory BIONEXT is participating in the European Testing Week (screening campaign for sexually transmitted infections - STI) which will take place from 15 to 22 May 2023 in all its testing centres throughout Luxembourg.

"1 in 5 of the 2.3 million people living with HIV in Europe are currently unaware that they are HIV positive and more than 50% of those who are HIV positive are diagnosed late, which delays access to treatment". source: testingweek.eu
"In Luxembourg, the number of reported STIs (Chlamydia, gonorrhoea, syphilis) has risen from 1755 in 2021 to 2171 in 2022, which is an increase of 23.7%. This is mainly due to an increase in cases of Chlamydia", source Ministry of Health
This figure is alarming, which is why it is necessary to promote prevention and facilitate access to early screening for HIV, but also for hepatitis and all other sexually transmitted infections that are frequently responsible for co-infections.
Once again, BIONEXT offers several new features to reach a greater number of patients:
simplified access conditions: results are now available in the secure MYLAB application
panel of tests offered in 2023: screening of 100% of sexually transmitted infections
 

Serologies 

• HIV
• Hepatitis B
• Hepatitis C
• Syphilis

 

 

PCR on urine

• Chlamydia trachomatis
• Neisseria gonorrhoeae
• Mycoplasma genitalium
• Trichomonas vaginalis
And always:
• free of charge
• without prescription
• without appointment
• in all our testing centres
The aim of our approach is to improve the existing offer in order to allow early screening, a condition for effective treatment and a reduction in contamination in the event of infection, by combining proximity and a simplified approach.
By way of illustration, France, which has been offering HIV screening since 2019, voted in September 2022 to extend free screening to all STIs for people under 26. This measure is also essential in Luxembourg in view of the increase in the number of contaminations observed between 2021 and 2022 (+23.7% in the number of cases of STI with Chlamydia trachomatis) and the sometimes severe complications of these pathologies (infertility, ectopic pregnancy, etc.).
 
Luxembourg should therefore be able to offer screening all year round, without prescription and free of charge in all medical analysis laboratories in the country, as is already the case in other European countries such as France.
Access to tests using cutting-edge techniques, coupled with medical support, allows for more sensitive and specific screening than self-tests available over the counter (www.autotest.lu).
In the event of a positive result, medical support is systematically offered, unlike the latter, where the patient is left to face the result alone.